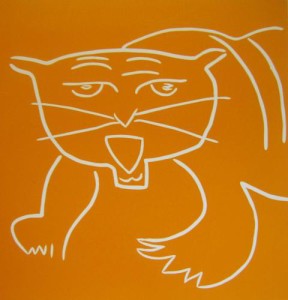 Medium: Linocut
Image Dimensions: 30cm x 30cm
Limited Edition of: 50
Colour: Tangerine
Hand printed on high quality paper
Year: 2007
Ref.No. 043
I went to the zoo and was struck by the tiger sat in his cage. I was mesmerised by his stare and wanted to capture the way the the lines of the eyes reflect the stripes of his coat and the square form of the image restricts him just like the cage.