Campari Art Without Walls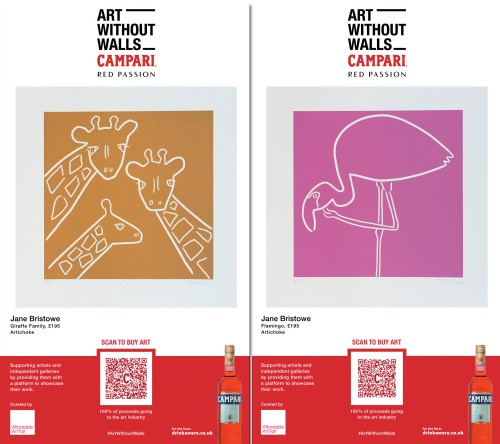 My Giraffe Family and Flamingo linocuts were chosen to be part of the Campari/Affordable Art Fair Art Without Walls Ad campaign in conjunction with my studio Artichoke Print Workshop.
Campari and the Affordable Art Fair joined forces to repurpose billboards across East London for two weeks in June to exhibit original work from independent UK galleries with all artwork on display for sale.
Nick Williamson, Marketing Director at Campari Group UK, said: "As a brand with a deep-rooted affiliation with the creative world for more than 160 years, we wanted to use our platform to support artists and independent galleries pushing the boundaries of creativity in the UK."
My Giraffe Family was photographed on a billboard in Shoreditch by fellow artist, Amy Gardner.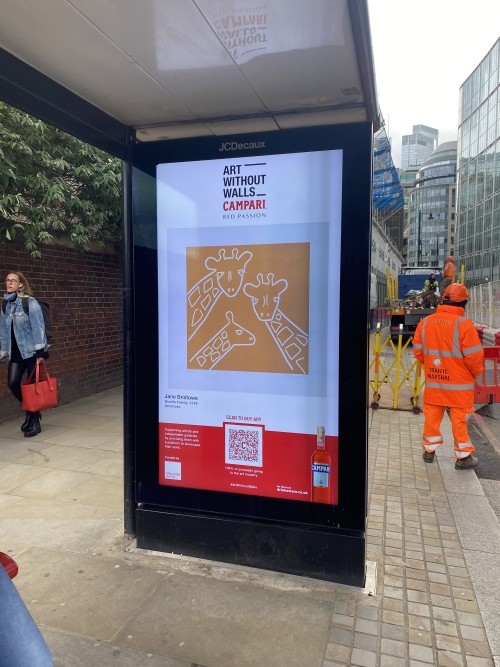 During its long history as an international brand name, Campari has worked with celebrated artists such as Fortunato Depero. The fruits of this collaboration can be seen at Galleria Campari, Milan, in the Headquarters of the Campari Group, where the entire history of the brand since its inception in 1860 can be found.
Campari has also collaborated on their ad campaigns with famous film directors Federico Fellini and Paolo Sorrentino.
After a year of gallery closures and uncertainty, it's good news to see my artwork in lights with Campari.
Time to have a toast – with Campari of course!
Artichoke Print Workshop will be exhibiting my artwork at the Affordable Art Fair in Battersea Park this autumn, 21st – 24th October 2021.