The Affordable Art Fair 2014
Jane Bristowe Linocuts  with Artichoke Printmaking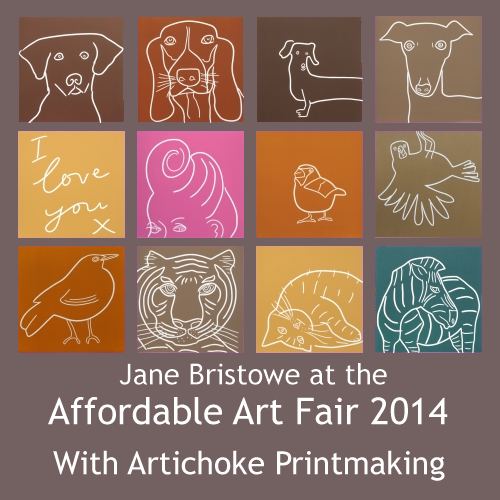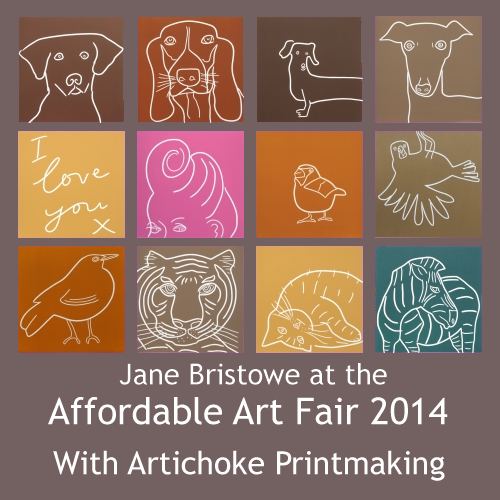 Jane will be showcasing her newest Linocuts with Artichoke Printmaking at this prestigious show in Hampstead, London in June. Jane's images are exciting and varied with subjects including Dogs, Birds, Wild Animals from India and Africa and even Hairstyles!
Half Price Tickets
Artichoke, stand C8 would love to see you at the Affordable Art Fair this June
This invitation allows half price entry for up to two people. To take advantage of this offer simply print out the invitation page, fill in your details and
hand in on arrival at the fair.
The invitation for Half Price Tickets for the Affordable Art Fair 2014 is in pdf format. You can download it or use your browser to print it.
Half Price Ticket Invitation.pdf
Opening times
Wednesday 11 June
Charity Private View 5.30pm – 9.30pm
Thursday 12 June11.00am – 5.30pm
Thursday Late View 5.30pm – 9.30pm
Friday 13 June11.00am – 6.00pm
Saturday 14 June11.00am – 6.00pm
Sunday 15 June11.00am – 6.00pm
Further details about getting to the show can be found here