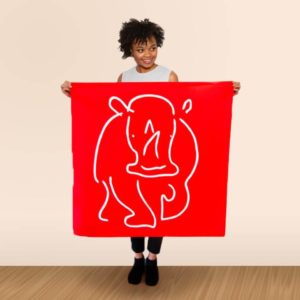 Fox & Chave – silk scarf makers – and I are delighted to be supporting the effort to conserve the white rhino and other endangered wildlife through royalties on sale of my Rhino design scarf, which are being donated to Tusk https://www.tusk.org/.
Printed on luxurious silk twill with hand-rolled edges, Fox & Chave products focus on art-inspired silk, featuring designs influenced by a historical or artistic narrative.
I was recently amused to discover that I'm a descendant of Nicholas Bristowe, Henry VIII's 'Clerk of the Wardrobe of Robes' and that he was the 'efficient civil servant who devised the Bristowe system for registering deliveries of silk to the palace' as quoted from Hampton Court curator Eleri Lynn's book 'Tudor Fashion' (publisher: Yale, 2017).
One story goes that Henry VIII threw up his crimson silk hat to celebrate his victory at the Siege of Boulogne in 1544 and that the hat was caught by Nicholas Bristowe. The hat was kept in the Bristowe family until 2014 when it was passed into the hands of Hampton Court. It will go on display there as 'The Bristowe Hat' in April 2020. Fortunately, it's colour has been largely preserved due to it having been kept in the dark.
This historical connection of mine with silk in Tudor times and Fox & Chave's fabulous silk creations of today, make this collaboration a perfect match and further designs are already planned.
I am, of course, thrilled to be collaborating with Fox & Chave on this artistic silk scarf venture which combines my passion for art and wildlife. This is a one-of-a-kind charitable treasure for Birthdays, Valentine's Day, Mother's Day or Christmas.
Prices: The Jane Bristowe Rhino Silk Square: £65.00
Available at the Fox & Chave website:
https://foxandchave.com/collections/silk-squares/products/the-jane-bristowe-rhino-silk-square